(Left photo) David and Myrtle Fukumoto pioneered True Indoor Bonsai since 1962. Fuku-Bonsai is certified for shipping to all parts of the United States. (Right photo left to right) Michael Imaino, David Fukumoto and Edison Yadao with the recently completed fourth major 360° Complex Landscape named "KOOLAU" as the newest addition to the dwarf schefflera exhibit collection.
FUKU-BONSAI ENTERS A NEW ERA!
ALOHA!
www.fukubonsai.com
was created in-house and went online in 1999. We're committed to developing and offering the highest quality and most successful gift bonsai! HAWAIIAN LAVA PLANTINGS are the most successful gift bonsai for anyone, anywhere who can grow houseplants. PREMIUM POTTED BONSAI and CUSTOM COLLECTION are the highest quality available on the Internet and include trees in training for 40 years or more!
We are especially proud of our 2007 INTRODUCTORY WORKSHOP PACKAGE that features a pretrained 3-5 year tree and nine other carefully developed components. It is the easiest way to learn or teach bonsai and have been used in thousands of "CREATE YOUR FIRST BONSAI" workshops. By providing all needed items and assistance, we made it possible for beginners to by-pass the most difficult first few years and the enjoyment and success rate soars!
INTRODUCING PREMIUM WORKSHOP PACKAGE as the second Beginner Workshop!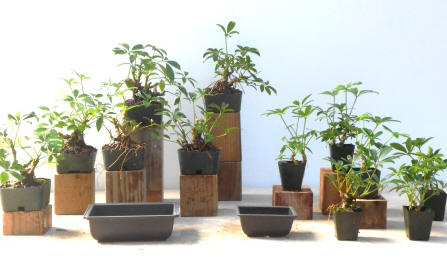 (Left) The PREMIUM WORKSHOP PACKAGE features a larger 5 to 7 year old pre-trained tree in a cut-down 4" pot to go into a larger 8"x5.75"x2.5" pot for those wanting to start off with a larger outstanding high-potential bonsai!
(Right) The original INTRODUCTORY WORKSHOP PACKAGE featured a 3 to 5 year old pre-trained tree in a 2" nursery pot to to into a 5"x3"x2" pot. This was the 2007 breakthrough that has become the easiest and most economical and successful way to learn bonsai. It has been used to teach bonsai to thousands of beginners.
For more information about the new Premium Workshop Package, please go to
THE FUKU-BONSAI STORE
is being redesigned to describe our specialty products and to make ordering easier. Until the shopping cart and check out is complete, please feel free to email
david.f@fukubonsai.com
or phone in your orders to (808) 982-9880 to provide shipping information and credit card authorization.
WE SPECIALIZE IN DWARF SCHEFFLERA!
Our priority is for customer success and no other tree can come close to our record of success! First of all it is the most durable and ideal houseplant for bonsai. We've greatly improved the genetic selection and ALL trees have good lower trunk character, multiple trunks, low branches, that make each one a high-potential bonsai!
THE DWARF SCHEFFLERA FACT SHEET
should convince anyone that this is the ideal starter tree to attain a highly desirable first success! But it also presents a very strong case for also specializing in this tree!
__________________________________________________________
OUR PLANS TO REBUILD THE ENTIRE FUKU-BONSAI WEBSITE!
Fashions change . . . websites become out-dated . . . and the challenge is to retain all that is good and to improve upon it!
THE GOOD: The Fuku-Bonsai website is the most authoritive and reputable bonsai website that is willing and able to help current and future customers. It contains more pertinent information about our specialty area.
THE BAD: The information is hard to find! It's time to edit, reorganize, and time to install a search engine within the website. This is reasonably possible with a detailed editing of all articles, creating keywords, and selecting a search engine.
THE MOVEMENT TO SOCIAL MEDIA! I'm told it's time to get a Facebook page and that it will be an alternative way to stay in contact. We're moving in that direction! ~~~David
We converted to navigational tabs at top of the page to make it easier to find what you want. We'll stay with very readable 12 point font text and a single column format with website URL, navigation, contact information, and article subject title at the top. This is a True Indoor Bonsai educational and sales website. I've enjoyed bonsai for over 50 years and honored to live a bonsai lifestyle.
There's a lot of confusion about "INDOOR BONSAI." Most are not houseplants. THAT'S THE REASON MOST BONSAI DIE! Bonsai do not miraculously become houseplants just because they are called "indoor bonsai." We specialize in Dwarf Schefflera, the proven, most durable, most successful gift bonsai for anyone, anywhere who can grow houseplants! To differentiate, we trademarked "True Indoor Bonsai™"!
We're grateful for the support, assistance, and courtesies that have made it possible for us to survive after losing over $30 million in 1989 when we sprayed defective Benlate contaminated with weedkillers. The total net proceeds of both the 1994 Benlate product liability and the 2007 DuPont fraud settlements were less than 10% of our losses after taxes and legal fees. But we survived and have made exceptional progress after Fuku-Bonsai and Mid-Pacific Bonsai Foundation partnered to co-sponsor the Fuku-Bonsai Cultural Center & Hawaii State Bonsai Repository, publish the monthly email Journal of Tropical & True Indoor Bonsai, and began teaching! WOW!
Much of this was made possible by Journal readers showing their support by becoming annual members of the Mid-Pacific Bonsai Foundation at just $12 per year. Any additional donations are gratefully accepted. We're committed to building a Tropical & True Indoor Bonsai community and becoming the highest credibility informational resource, the trusted supplier of high-potential prepared plants used in the Journal articles, and to provide personal assistance to those who join our Beginner and Fast-Track Study Groups.
Our impressive record ended when computers crashed in mid-November 2014 and we are learning new upgrades and programs. An improved website is needed and we seek volunteers who are knowledgeable and interested in becoming long-term members of the Journal editorial team and a Computer Advisory Committee. Volunteer docents and workshop leaders are also needed. The Fuku-Bonsai Cultural Center & Hawaii State Bonsai Repository is steadily becoming a major Big Island visitor attraction with an impressive exhibit collection, large certified bonsai inventory for selection and shipping, and workshops that are the highlights of Hawaiian vacations.
Besides leading the Foundation, Michael Imaino is rebuilding center exhibits and about a third have been completed. Besides being the primary workshop leader, Edison Yadao is building the Big Island Promotional Partnership Program to get the community involved as we move into the next phase of "MAKING THE BIG ISLAND OF HAWAII AN INTERNATIONAL BONSAI MECCA!" 2015 will be another exciting year and we hope to resume publication soon.
We'll assist old and new customers and am committed to continually improve! A SUPER MAHALO to all who have supported and assisted us over the many years! ~~~David
____________________________________________________________________________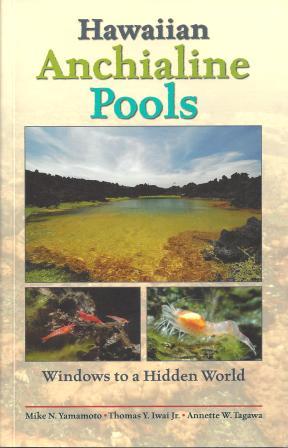 MICRO-LOBSTERS! After 25 years, we have rebuilt our core bonsai business and will soon exit the Micro-Lobster specialty. We held back closing to announce that a new book titled: HAWAIIAN ANCHIALINE POOLS; Windows to a Hidden World! by Mike Yamamoto, Thomas Iwai Jr. and Annette Tagawa is now available.
The authors are great individuals and our main resources in our early days. They ended the book with the sincere hope that the book is a beginning toward a better understanding of the beauty and fragile nature of these pools and the unique creatures that live in them.
I recommend the book highly! ~~~David
For more information and to order follow this link: https://www.mutualpublishing.com/shop/index.php?l=product_detail&p=649 For more information, email Richard Ahn at: shop@mutualpublishing.com $13.95 + shipping.
_________________________________________________________
© Fuku-Bonsai Inc and Mid-Pacific Bonsai Foundation. 1999, 2000, 2001, 2002, 2003, 2004, 2005, 2006, 2007, 2008, 2009, 2010, 2011, 2012, 2013, 2014, 2015 Permission to reproduce a single page or a single photo is permitted for non-commercial usage provided www.fukubonsai.com website credit is given. All other rights reserved.
PRIVACY STATEMENT. Fuku-Bonsai collects names, city and state, and e-mail addresses for the Journal of Tropical & True Indoor Bonsai from order forms, the guest book at the Fuku-Bonsai Cultural Center, and as an honor system benefit for the members of the Mid-Pacific Bonsai Foundation. Fuku-Bonsai will not sell, trade, or make public email addresses. To remove, reply with "remove" as a subject. THE FUKU-BONSAI WEBSITE DOES NOT UTILIZE ANY "COOKIES".
THIS IS A JOINT WEBSITE OF FUKU-BONSAI INC., THE 501(3)(C) NON-PROFIT MID-PACIFIC BONSAI FOUNDATION. In the past, Fuku-Bonsai underwrote 99% of all expenses. As we move into the future, Fuku-Bonsai will increasingly focus on creating the finest quality and best value TRUE INDOOR BONSAI™ products. Mid-Pacific Bonsai Foundation is already the second largest Fuku-Bonsai stockholder behind the founding Fukumoto family. It will assume greater overall educational responsibilities and Mid-Pacific Bonsai Foundation will become the largest Fuku-Bonsai stockholder to increasingly oversee career Fuku-Bonsai managers and staff as part of the post-Fukumoto succession plan. This website will steadily be redesigned at time permits by David Fukumoto. If you have suggestions or can assist, please contact me at david.f@fukubonsai.com