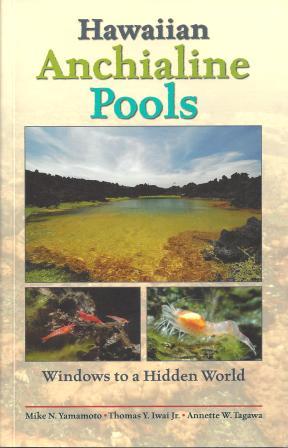 MICRO-LOBSTERS!
After 25 years, we have rebuilt our core bonsai business and have ended Micro-Lobsters. We held back closing to announce that a new book titled:
HAWAIIAN ANCHIALINE POOLS; Windows to a Hidden World!
by Mike Yamamoto, Thomas Iwai Jr. and Annette Tagawa is now available.
The authors are great individuals and our main resources in our early days. They ended the book with the sincere hope that the book is a beginning toward a better understanding of the beauty and fragile nature of these pools and the unique creatures that live in them.
I recommend the book highly! ~~~David
For more information and to order follow this link: https://www.mutualpublishing.com/shop/index.php?l=product_detail&p=649 For more information, email Richard Ahn at: shop@mutualpublishing.com $13.95 + shipping.
_________________________________________________________
© Fuku-Bonsai Inc and Mid-Pacific Bonsai Foundation. 1999, 2000, 2001, 2002, 2003, 2004, 2005, 2006, 2007, 2008, 2009, 2010, 2011, 2012, 2013, 2014, 2015, 2016, 2017. Permission to reproduce a single page or a single photo is permitted for non-commercial usage provided www.fukubonsai.com website credit is given. All other rights reserved.
PRIVACY STATEMENT. Fuku-Bonsai collects names, city and state, and e-mail addresses for the Journal of Tropical & True Indoor Bonsai from order forms, the guest book at the Fuku-Bonsai Cultural Center, and as an honor system benefit for the members of the Mid-Pacific Bonsai Foundation. Fuku-Bonsai will not sell, trade, or make public email addresses. To remove, reply with "remove" as a subject. THE FUKU-BONSAI WEBSITE DOES NOT UTILIZE ANY "COOKIES".
THIS IS A JOINT WEBSITE OF FUKU-BONSAI INC., and THE 501(3)(C) NON-PROFIT MID-PACIFIC BONSAI FOUNDATION. In the past, Fuku-Bonsai underwrote 99% of all expenses. As we move into the future, Fuku-Bonsai will increasingly focus on creating the finest quality and best value TRUE INDOOR BONSAI™ products. Mid-Pacific Bonsai Foundation is already the second largest Fuku-Bonsai stockholder behind the founding Fukumoto family. It will assume greater overall educational responsibilities and Mid-Pacific Bonsai Foundation will become the largest Fuku-Bonsai stockholder to increasingly oversee career Fuku-Bonsai managers and staff as part of the post-Fukumoto succession plan. This website will steadily be redesigned at time permits by David Fukumoto. If you have suggestions or can assist, please contact me at david.f@fukubonsai.com