ALOHA! In 1985 the Fukumoto sole proprietorship nursery evolved into a Hawaiian corporation to own and operate both the 12-acre Kurtistown Fuku-Bonsai certified export nursery and the 17-acre Fuku-Bonsai Center in upper Keauhou-Kona. We had an ideal location and potential to be an international bonsai attraction to compliment the Big Island of Hawaii's then developing Kona-Kohala visitor destination area!
But in 1989 we sprayed defective Benlate contaminated with weedkillers and our dreams ended with losses of over $30 million! We struggled and we needed the protection of Chapter 11 Bankruptcy in 1994. Two years later we paid off all creditors 100% + interest and the bankruptcy was cancelled. We lost the Kona Fuku-Bonsai Center, retrenched to Kurtistown, and opened a modest center. Contamination prevented growing Brassaia so we mastered and made Dwarf Schefflera our new specialty.
We fought an epic losing legal war with DuPont who kept us in court for over 16 years. Although we received a Benlate Product Liability settlement in 1994 and a DuPont Fraud settlement in 2007, the net total after taxes and legal fees and costs was less than 10% of our losses. Life is not fair and while it is easy to be bitter, instead we created the highest quality, highest-value, most successful bonsai for anyone anywhere who can grow houseplants! With the support of individuals, associates, and the Big Island community, we are now rebuilding and expanding.
We've made major progress in reinventing Fuku-Bonsai and in 2011, we issued a report titled: FUKU-BONSAI BEGINS A NEW ERA! that is posted at www.fukubonsai.com/1a3a.html that tells of physically rebuilding the nursery that was originally started and constructed since 1973.
In January of 2013, we began publishing the monthly email JOURNAL OF TROPICAL AND TRUE INDOOR BONSAI and in doing so, we accelerated progress dramatically. Jerry Meislik, Ryan Chang, and Jay Boryczko and others contributed articles and we all learned a lot together! Unfortunately in November 2014, just short of two years of publishing, our computers crashed and that last issue is posted at www.fukubonsai.com/Journal23.November.2014.html. Ironically, the title of that issue was: FUKU-BONSAI LAUNCHES INTO A NEW ERA II! The issue was a celebration of sorts with summary articles by Paul Bakerman, and Burton Flake plus significant articles by Jerry, Ryan and Jay! Clearly the monthly email newsletter made possible significant progress as shown by the new Fuku-Bonsai products introduced in that issue. Since then, those new products have been significantly improved!
RETURNING TO OUR BONSAI ROOTS
Myrtle and I got married in 1962 and grew a houseplant as bonsai in our apartment. When we purchased a home in Kaneohe, our interest in bonsai expanded and shortly after, I was asked to teach an evening adult education bonsai course. Then bonsai was a secretive activity with no published tropical bonsai information or suitable plants available. Student success soared after the first mimeographed handbook was printed and Myrtle's backyard nursery supplied suitable plants. We've built the hobby, the nursery, and educational activities together and in 2012 we celebrated 50 years of marriage and bonsai!
From the beginning, we focused upon creating and offering only the highest quality products, teaching, and focusing on customer success. As we rebuild and expand, we are installing greater efficiency and higher quality systems and standards. Staff training will be shared so customers can learn and teach others! Workshop packages are suitable for beginners or more advanced hobbyists. Both are complete and primarily varies by the size and development stage of the plant and the materials in the "conversion kit." The Introductory Workshop Package has been very successful in economically teaching the basics. Thousands have been sold to mail order individuals, bonsai clubs, and used to teach at the Fuku-Bonsai Cultural Center. Participants often write that it was the highlight of their Hawaiian vacation and we are getting more repeats taking advanced workshops! That's really great!
CREATING AN AMERICAN FORM OF BONSAI
We first tried to master Japanese temperate climate outdoor bonsai with only modest success as most of their trees will not grow in tropical Hawaii. There really are only two types of bonsai --- bonsai that began by digging up ancient gnarled trees are call "NATURE'S BONSAI." These require and extraordinary amount of skill, discipline and commitment. It's an elite form of bonsai and not for everyone. But the Japanese form of "NURSERY BONSAI" are extremely rigid with thousands of rules and based primarily of "single apex-tier branched" temperate climate outdoor trees we call "pine-tree style"
American traits are different. There's an impatience and the desire for "instant" results with a limited investment of time and study. I came to understand these differences as I worked with extraordinary leaders in the 1970's and 80's to develop international bonsai. We promoted Japanese bonsai, but also Chinese penjing and Tropical bonsai. In addition to my contribution to tropical ficus and banyan bonsai, I've had the opportunity to lead and develop TRUE INDOOR BONSAI™ as an innovative American form of "bonsai for anyone, anywhere who can grow houseplants." These will one day be the most common and popular form of bonsai as they are the easiest form of bonsai that will grow anywhere because home and office environments are either heated or air conditioned to tropical temperatures. They will grow outdoors when night temperatures are above 55°F (and likely lower).
We will promote True Indoor Bonsai as an art, craft, and a hobby. We will share information and supply ideal products so anyone can successfully learn and teach this specialty craft to others. We will make plants and materials available to give as gifts and support anyone within the United States to participate in a satisfying lifetime hobby. We will encourage innovation and individual creativity to elevate True Indoor Bonsai to the highest standards of individual excellence and creative art. Each of us is different and a product of our genes, environment and experiences. The shape of a bonsai is the sum total of all of the various training steps that occurred in its life.
Measured from our start in 1962, TRUE INDOOR BONSAI™ is just over 50 years old and is already approaching the grandeur and maturity of the priceless masterpieces of Japanese Bonsai that are hundreds of years older. These ancient masterpieces require skilled expert care as they are very easy to kill, especially as they approach the end of their maximum temperate climate life expectancy.
In contrast, Fuku-Bonsai's True Indoor Bonsai Custom Collection oldest specimen trees are just over 50 years in training. We began offering 10+ year old trees a while back and customers seem to have no problems while others take a bit longer. But the success rate is much, much higher than those trying to purchase older, imported, Japanese temperate climate bonsai --- especially if they try to grow them indoors!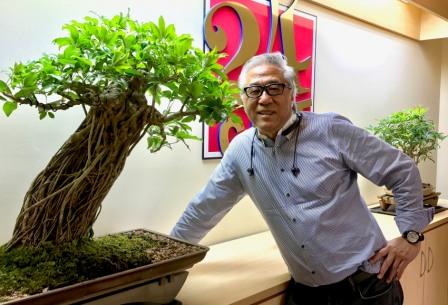 One of our older Custom Collection Roots in a 25"x15"x2" rectangular plastic pot shipped to Bob Sun of Pennsylvania in May 2017. It is featured in an article at www.fukubonsai.com/3a1c1.html that showed how his tree was packed for shipment.
Bob has also grown traditional outdoor bonsai and had purchased a smaller Custom Collection shipped earlier during colder weather. It is shown behind him and has not had any problems.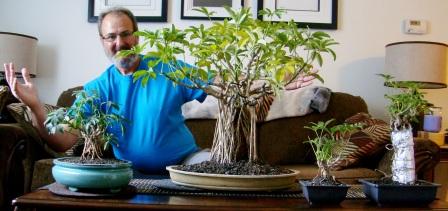 Another more recently shipped Custom Collection was one of the first tall vertical pinnacle rock plantings that was grown from seed started about 22 years ago and rock planted about 8 years ago. Kevin Byars of Canton, Michigan wrote:
"Enclosed are pictures of the trees I have purchased from you. From left to right is a 2 year old potted (Roots) , and then of course my (custom collection) tree which has become my pride and joy. It is truly a beautiful tree. Next up is a beginner workshop tree, and last but not least, my premium workshop tree that I decided to plant in a column. It just started putting out new leaves and is looking great. The durability of these plants is incredible. I am VERY happy with them. I also wanted to personally thank you for answering ALL my questions about my tree. Its obvious you take great pride in ensuring that people get the help they need . Thanks for everything David! I'm sure I will be talking to you soon!!"
Kevin has previously grown traditional bonsai for over 15 years and the tree was sent over-grown to allow him to complete styling the crown. I am assisting with one-on-one emails to teach the principles of True Indoor Bonsai. In the future, we will offer a full range of Sumo, Roots, Hawaiian Dragon and Root-Over-Rock older and larger Custom Collection bonsai.
In both above cases Custom Collection was sent to those with previous traditional bonsai experience and this seems to be an increasing trend. Some are forced to give up their outdoor collections when they move to a different climate or to apartments. Others grow both forms but are enjoying our True Indoor Bonsai because they can purchase high-potential trees at reasonable prices and enjoy completing the training. Those who are willing to teach really appreciate our workshop packages that feature pre-trained prepared bonsai stock and all needed components. These are convenient and their students who want to grow bonsai indoors have a very high success rate.
Equally common is that True Indoor Bonsai is increasingly a multi-generational hobby and it's a delightful experience when we host grandparents, their adult children, and grandchildren at workshops at the Fuku-Bonsai Cultural Center. It is very common for us to be teaching children 5 years old. We've had such multi-generational repeat workshops and the common interest bring the families closer together!
But we also have had visitors with just one person in the group having a very deep interest and who wants to spend a lot of time at Fuku-Bonsai. The rest of the group goes off to see nearby Volcanoes National Park or special places in the Hilo and Puna area and comes back to pick up the bonsai person. Usually there's never enough time and we continue the class via email and photos.
FUKU-BONSAI IS COMMITTED AND GROWING FOR THE FUTURE!
As professionals it's our responsibility to supply the finest possible bonsai stock and provide educational materials on how to exploit and enhance their potential. We will have the capability of shipping thousands of Introductory (and larger, older Premium) Workshop Packages in the future to supply those willing and able to teach bonsai to others. We will have increasingly advanced workshop materials and I'll been writing more educational articles for posting on this website and as part of the next edition of the workshop handbook. Fuku-Bonsai has developed a multi-model production flow protocol incorporating quality-control culling standards at each step. So our oldest plants are also our highest quality plants. Like a proud parent, we enjoy watching watching our trees develop and there's a bit of pride and sadness when we send off promising trees out into the world! We include cultural information and offer assistance by email, newsletter, or phone. Our comprehensive educational website supports customer success!
As Myrtle and I turn over Fuku-Bonsai management responsibility to our successors, we hope they will continue the values that guided my bonsai career since 1962. We hope Fuku-Bonsai will always promote True Indoor Bonsai as a populist hobby in which everyone can experience success and celebrate man and nature in harmony. Mahalo to the stockholders, staff, associates and customers who have supported us and made Fuku-Bonsai possible!
_________________________________________________________________