Ted with the Kansako Juniper that he obtained and donated to the Mid-Pacific Bonsai Foundation's Hawaii State Bonsai Repository to honor the late Jackson Kansako. This is believed to be the oldest Dwarf Japanese Prostrate Juniper (Juniperous squamata 'Prostrata') that Jackson imported from Oregon in the late 1940's. The original trunk had rotted and split into four sections. Three sections are still connected with the fourth forming the cascading section.

__________________________________________________________________
Ted is a truly special person of the highest integrity and idealism and my special friend and mentor. He is a part of a unique generation that changed the history of Hawaii and bonsai. In the Reserve Officers Training Corp (ROTC) at the University of Hawaii when World War II began, each in his group was issued a rifle and five bullets and ordered into the hills to defend against expected paratroopers. After no invasion came, he and others of Japanese descent were called in, their weapons taken away, labeled "enemy aliens," and discharged.
In spite of their loyalty being questioned, they volunteered to dig ditches or whatever would support the war effort. The Varsity Victory Volunteers made possible the creation of the all Japanese 442nd "Go for Broke!" Regimental Combat Team that went on to become the most highly decorated unit of its kind. Ted served in Burma with the Military Intelligence Service (MIS). It is wonderful that the members of the 100th Infantry, 442nd, MIS, and other all-Japanese units were recently collectively awarded the congressional medal.
With the GI Bill, Ted obtained his law degree and returned to build a distinguished legal career, forming the Arbitrating Attorneys of Hawaii. He holds the distinction of having the most published decisions with none overturned on appeal. Ted is a very talented, detail-oriented writer and leader. These abilities made him a master arbitrator and mediator and a very positive force in community and bonsai affairs.
He serves as historian for the various military units that won honors in battle. The veterans became a political force that made Hawaii a leading progressive state with more opportunity for everyone. Like Ted, the veterans are humble, idealistic, community-builders, and largely work behind the scenes. Ted's bonsai contributions are impressive and significant but just a small part of his many achievements and accomplishments. They are what I know most about and share them so more will know about it.
TED'S BONSAI CONTRIBUTIONS
I first met Ted in the mid-1960's when I was the youngest new member of the Honolulu Bonsai Kenkyu Club. I heard that Ted was the vice-president and finally got to meet him when the president was on a trip to Japan and Ted conducted the meeting. Ala Moana Shopping Center, then one of the largest in the world, invited the club to stage a bonsai show and there was significant discussion.
The oldest members were concerned about the costs to create the exhibit. After much discussion they gave their blessings to the younger members to organize and produce the show provided that they were fully responsible for any and all costs. So each of us donated funds and the exhibit was a huge success with over 20,000 visitors! The center allowed us to have a donation bowl to recover costs and it turned out to be a financial windfall!
That created a major problem. The older members wanted the funds but Ted stood firm that the funds be used for bonsai promotion and education. This was resolved by proportioning the funds amongst the participants. Most of us donated it back to start the non-profit Hawaii Bonsai Association (HBA). Dr. Horace Clay was the president and Ted served as secretary-treasurer for the first ten years. Ted did the bulk of the organizational and administrative work including obtaining IRS non-profit status.
Hawaii emerged into the international bonsai spotlight as the host of the landmark 1980 International Bonsai Congress (IBS '80 Hawaii) in Honolulu that was co-sponsored by HBA, Bonsai Clubs International, and the American Bonsai Society. It was the first international participation by the Nippon Bonsai Association and the first convention that introduced the older art of Chinese penjing which is 1,000 years older than Japanese bonsai. It featured a Hawaii 3-ring presentation which showed the diversity of Hawaiian bonsai.
IBC '80 Hawaii was the Western version of what was happening in Japan. Japan's bonsai community emergence and recovery from the devastation and defeat of World War II in the Expo 70 world fair in Osaka. The fair featured a large bonsai exhibition that was very well received. Many from Hawaii attended and got to meet Saburo Kato (or strengthened prior relationships). This led to exchange visits and a joint commitment for bonsai to become a vehicle for world friendship and peace.
In 1979 as president of HBA, Ted represented Hawaii at the World Bonsai Convention in Osaka, Japan, that, along with Saburo Kato, John Naka of California, Paul Lesniewicz of Germany, and other international bonsai leaders, laid the foundation for creating the World Bonsai Friendship Federation. Ted became the legal advisor of the organization and additional progress was made the next year at IBC '80 Hawaii where the theme was: "Bonsai, Bridge to International Friendship!"
In the mid 1980's when Ted agreed to become a director of Bonsai Clubs International, I agreed to serve one term as director of American Bonsai Society with the pledge of supporting both organizations and encouraging greater synergistic cooperation. This also benefited communications as we worked toward creating greater international bonsai cooperation and progress.
For the next 10 years there was a flurry of activity that came together when the World Bonsai Friendship Federation was officially adopted in Osaka, Japan. A year later, Hawaii hosted IBC '90 Hawaii and as part of the program I presented Fuku-Bonsai's International Honor Roll plaques to Japan's Saburo Kato and Akiji Kataoka, Hong Kong's Yee-sun Wu, California's John Naka, and Hawaii's Haruo "Papa" Kaneshiro and Ted Tsukiyama.
In 2001 Ted was presented the Order of the Rising Sun with Silver Rays, a Japanese government imperial decoration for his efforts to build goodwill between Japan and the United States, to establish the World Bonsai Friendship Federation, and to improve the Japanese-American community. He was filled with emotion as he received the award from his former enemy. It strengthened his conviction that bonsai truly can be a vehicle for friendships and peace.
TED'S FUKU-BONSAI CONTRIBUTION
In 1973 the Fukumotos moved from Honolulu to the Big Island of Hawaii to form Fuku-Bonsai as the first Hawaii State Certified Export Nursery as a sole proprietorship. We began as houseplants became popular throughout the nation and our schefflera (Brassaia actinophylla) grown in lava rocks were an instant winner. We sold all production by retail mail order or through very widely scattered Fuku-Bonsai Authorized Retailers. Ted is an exceptional writer and correspondent and kept me involved in the Hawaii Bonsai Association, national, and international bonsai activities. When it became apparent that our two children would not be a part of operating Fuku-Bonsai, I sought Ted's counsel and feedback.
Fuku-Bonsai became a corporation and succession vehicle to perpetuating the Fukumoto family business into the next generation. For validity and greater support, it needed to benefit bonsai and the local community. So a key component was the development of a major bonsai attraction to compliment the then developing Big Island tourism industry.
Ted agreed to be the corporate treasurer with Mary Lou Bean of Kona as secretary and David and Myrtle Fukumoto as president and vice-president. Past HBA president Dr. Horace Clay and engineer and past Hawaii County managing director Megumi Kon agreed to be corporate directors. Megumi had worked with Ted earlier to create the Kaikoo project that revitalized and rebuilt the city of Hilo following the devastating 1960 tsunami. This stellar board provided strong credibility and the corporation took over on January 1, 1985 with David Fukumoto as the sole initial stockholder. In time we gathered over 200 stockholders and raised over $2 million.
We amassed an extraordinary string of successes and purchased seventeen acres of the former J. M. Tanaka Quarry in upper Keauhou-Kona, designed, landscaped and built the Kona Fuku-Bonsai Center, and expanded nursery production. But, by a cruel twist of fate, plants were dying at the Kurtistown nursery even as the center began a soft opening and we prepared to celebrate the grand opening of the Fuku-Bonsai Center in 1992. Unfortunately in 1989 we had sprayed defective Benlate fungicide that was contaminated with weedkillers that killed or stunted the plants in Kurtistown that was to have been our primary source of income.
We struggle to develop new crops and quickly sold out all surviving plants. We opened the center with heavy hearts knowing of the eminent closing in spite of community support and being an acclaimed artistic success. Ted provided quiet counsel during our arduous legal battle with DuPont. It included fighting foreclosures, filing for Chapter 11 Bankruptcy, product liability litigation, DuPont fraud litigation, unethical accountants and attorneys, and every other problem that occurs when vultures sense a vulnerable target.
Total losses exceed $30 million and the eighteen years of "David vs. Goliath" legal war with DuPont was very one-sided and we were forced to endure legal bullying and mauling in spite of us being legally, morally, and ethically right! In the end, we were forced to accept a DuPont Fraud settlement or face many more years of appeals and other legal tactics available to DuPont. The net proceeds of both the 1994 Benlate Product Liability and the 2007 DuPont Fraud settlements after taxes and legal costs were less than 10% of our losses. But we somehow survived!
After the 2007 settlement, I finally allowed Ted to resign from Fuku-Bonsai's board in which he provided 22 years of the best priceless counsel, encouragement and friendship that anyone can ever be fortunate enough to have. Ted remains active and from time to time I can't resist running things past him for his opinion. Although it may bring some stress at times, I think its better that he be kept informed about what is happening at Fuku-Bonsai, especially since most of the news lately is good!
_________________________________________________________________
• The above tribute was written earlier in 2012. Since then Ted has been recognized and honored by the University of Hawaii Alumni Association at their Distinguished Alumni Awards Dinner with a Lifetime Achievement Award on May 10, 2012. Much has been written of Ted's military service record and outstanding legal career. Amongst such accomplishments, his work in bonsai is not even mentioned.
• In May 2014, Fuku-Bonsai dedicated the third major 360° complex landscape titted: THE WORLD OF BONSAI ALOHA!" to honor Ted Tsukiyama. (See www.fukubonsai.com/4a20.html and www.fukubonsai.com/4a20a.html ) tribute by Fuku-Bonsai's David Fukumoto ) Bonsai Clubs International joined in to honor Ted and published the article about the complex landscape in their April/May/June issue of BCI MAGAZINE. In addition, Journal of Tropical and True Indoor Bonsai May 2014 included tributes to Ted by National Bonsai Foundation president Felix Laughlin (see www.fukubonsai.com/4a20b.html ) and by Warren Yamamoto, then president of the Hawaii Bonsai Association (see www.fukubonsai.com/4a20c.html )
• Ted has received numerous other awards and honors from throughout the community. So in spite of him being a humble person who shies away from any spot-light, I felt it was necessary to shine some light on Ted's contribution to the art and culture of bonsai. Thank you Ted!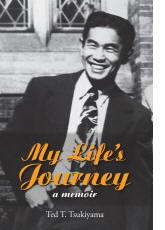 • In 2017, at the age of 96, Watermark Publishing of 1000 Bishop Street, Suite 806, Honolulu,Hawaii 96813 (Toll-free 1-866-900-BOOK; sales@bookshawaii.net, www.bookshawaii.net) published MY LIFE'S JOURNEY; A MEMOIR by Ted T. Tsukiyama. Order link: https://www.bookshawaii.net/tsukiyama-memoir.html
"The riveting memoir of a community leader, historian,

public speaker and – above all – ardent American citizen!"
$17.96. Author royalties of this book support Nisei veteran organizations.
*** Go to book review at www.fukubonsai.com/5a21a.html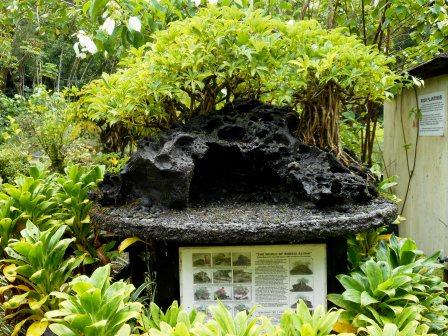 July 2017 updated photo:
"THE WORLD OF BONSAI ALOHA!"
Three and a half years after created, the complex landscape is amongst the most popular with visitors to the Fuku-Bonsai Cultural Center. It is mounted on a turntable that allows viewing all sides. As planned, the crowns of the two large trees are merging into a single foliage banyan crown. An educational panel summarizes how the tree was created and includes Ted Tsukiyama dedication-tribute information.
You are cordially invited to visit:

FUKU-BONSAI CULTURAL CENTER &

HAWAII STATE BONSAI REPOSITORY

PO Box 6000 (17-856 Olaa Road), Kurtistown, Hawaii 96760